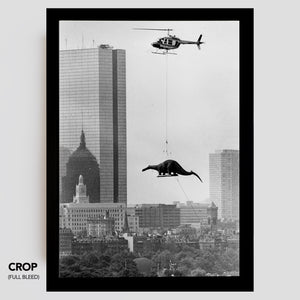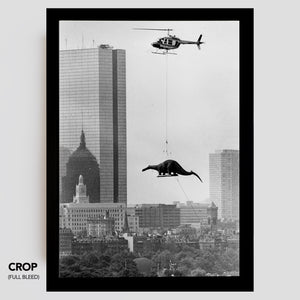 Arthur Pollock
Dinosaur Print
We've received so many requests for prints of this iconic Arthur Pollock photo that we decided to make trade prints available. Depicting the installation of the Museum of Science dinosaur in Boston, this photo appeared in the pages of the Boston Herald circa 1984. (Check out this feature for more background on this photo.) In the past we've only printed this photo for gallery shows and because of the paper and print quality, the price was quite high. Luckily we've been able to create a version of this artist print that still maintains that same quality, but carries a lower cost. 
These prints are created from the original 1984 negative and printed digitally on Arista photo grade paper using a Canon iPF8300 large format printer. These prints are not numbered or signed, as this is a trade edition. You can choose from a full bleed (all the way to the edge) or a white bordered version of the print. Full bleed versions must be cropped to fit; you can see the crop we use in the photo gallery. 30x40 prints are only available with borders due to the dimensions. If you're unsure about which to choose, we recommend going with full bleed.
After you select your print from the options below and check out, you'll get a confirmation email from us. You will then receive your print drop shipped in a tube from the printer. Since these are on-demand orders, please allow roughly 10-12 business days from the time you place your order until your print arrives. All print prices include standard Fedex shipping, but faster shipping times can be made available upon request. Just email us beforehand and we'll let you know if the date you need can be accommodated. 
NOTE: International customers please email us in advance for a quote on additional shipping and extended time estimates. 
Museum of Science Install
Archival Ink Jet Print
Black & White, Lustre
Arista Photo Grade Paper
Unsigned Trade Edition