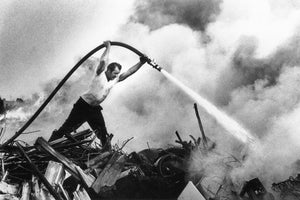 Arthur Pollock
Arthur Pollock
A news media photographer for over forty years, Arthur Pollock created images that incorporated great depth and allure with a photojournalistic viewpoint. Reminiscent of the gritty, yet artistic style popularized by Weegee in the forties, the photographs in the book bring to light the daily travails that build the foundation of a city. Starting off professionally in Hammond, Indiana and Lowell, MA in the 1960's, he documented day to day street level stories of the time, and cut his teeth on towns in the midst of an economic downturn. Hired on staff at the Boston Herald in the early eighties, he worked for over ten years on major features like the Space Shuttle Challenger explosion and was the recipient of numerous awards throughout his time in the field before becoming Assistant Photo Editor at the end of the last decade. He passed away in 2018.
"Many news photographers travel in packs at events and often their photos reflect a commonness of vision that just doesn't stand the test of time. They are competent, but their photographs are also predictable. Just think back to your own hometown paper from the days when the black printing ink might have rubbed off on your hands. Are there any photographs that stick in your mind? Not many. This seems to be the norm for most daily news photos, unless it happens to be a photo made by one Arthur Pollock. ...Pollock holds your eye and your spirit! Throw in his crops, the "hand of God" darkroom work and sometimes it's even a classic."   - Ken Light, 2011
This second edition of the original 2011 printing was reissued on the first anniversary of his death and comes enclosed in a foil stamped, heavy stock wrap. Paper stocks, both within the book and on the jacket, have also been upgraded from the first printing.  
Hardcover w/ jacket
Foil-stamped, stock wrap
184 pages, 166 images
9 inches x 11 inches